Pike's Place Market: The Largest in the Country
Posted by Rhiya Prater on Wednesday, July 26, 2023 at 10:00 AM
By Rhiya Prater / July 26, 2023
Comment
PIKE'S PLACE MARKET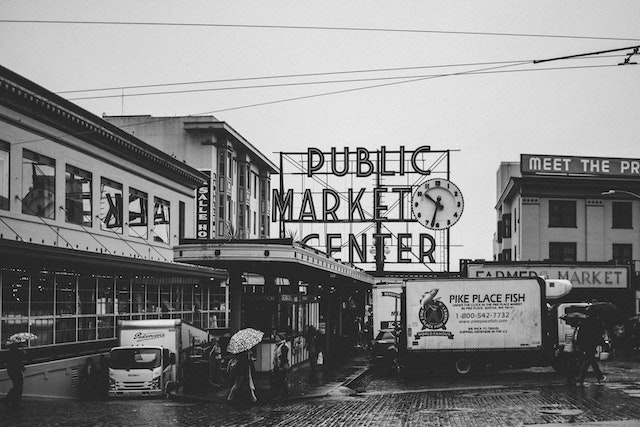 Perhaps one of the most well known spots in Seattle, even to those that are not residents, is the iconic Pike's Place Market. Home to fish throwing, fresh flowers, local artisans, farmers, and 500 other small businesses, the nine acre market has been providing for over a hundred years, making it one of the oldest and largest farmer's markets in the country.
Established in 1907, the market is open seven days a week, with the exception of Christmas Day and Thanksgiving. With a dedicated parking garage of 800 spots on Western Avenue, the best time to visit is in the mornings if you would like a less crowded experience.
Is it wheelchair/stroller accessible?
While hilly, majority of the ten market levels are accessible via ramp or elevators.
Are pets allowed?
While a portion of the market is open air (not enclosed), pets are not allowed for the health and safety of the merchants and visitors. Only licensed and trained service animals are permitted.
Can I take pictures?
While tripods and drones are not allowed, visitors are more than welcome to take photos for personal and non commercial use. Anything more than that will require a filming permit.
Fun Facts:
-Pike's Place Market has 10 different floors
-It is home to: 220+ independently owned shops and restaurants, 150+ artisans, 70+ farmers and 60+ permitted musicians
For more information on vendors in Pike's Place Market, map's, or other knowledge, please visit there website here.